Let us help you connect to resources.
We have compiled informational documents and ways to connect to various resources throughout Berkshire County.
Please note that this page does not include all the resources available. For assistance with programs and resources, we recommend connecting with a Community Navigator at (413) 442-3181 x0.
* Community Navigation is a BUW-supported program through Central Berkshire Habitat for Humanity
Food Pantries and Meal Sites in Berkshire County (as of May 2023)
Program hours and days can change without notice. Please call the location to be sure of times and requirements.
Despensas de Alimentos y Comedores en el Condado de Berkshire (Junio de 2023)
Ya que las horas y los días del programa pueden cambiar sin previo aviso, por favor llame al centro para verificar los horarios y requisitos.
Supplemental Nutrition Assistance Program (SNAP)
SNAP not only helps you stretch your food dollar and buy nutritious foods, but also brings money into your local economy. 
You may be eligible for SNAP. Learn more and apply.
El Programa de Asistencia de Nutrición Suplementario
Puede ser elegible para SNAP. Aprende más y aplica.
SNAP no solo le ayuda estirar su dinero para comida y comprar comida nutritiva, si no también le contribuye dinero a la economía.
United Way, in partnership with SingleCare (formerly FamilyWize), offers a prescription discount program as a powerful resource for your community. Berkshire United Way has cards available in our office and at events.
The SingleCare Prescription Savings Card:
Always free to use by everyone – just show it to the pharmacist

Save up to 80% on 10,000+ prescription medications

Accepted at major pharmacy chains nationwide

No registration or eligibility requirements. Use it right away!

Sign up on SingleCare.com for additional member savings

Works whether you're insured or underinsured

Unlimited uses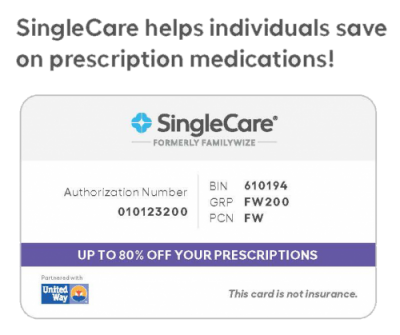 Click on image for details
Berkshire County Transportation Guide | Berkshires without Barriers (as of December 2022)
This guide was prepared by the Berkshire Regional Planning Commission, in cooperation with the Berkshire Regional Transit Authority, the Berkshire Regional Coordination Council on Transportation, the Common Wealth of Massachusetts Department of Transportation, and the U.S. Department of Transportation – Federal Highway Administration and Federal Transit Administration.
VITA: Volunteer Income Tax Assistance | Asistencia Voluntaria de Impuestos sobre la Renta
* This program is closed, but will be offered again next tax season | Este programa está cerrado, pero se ofrecerá nuevamente la próxima temporada de impuestos.
VITA offers free tax preparation for eligible households making $60,000 or less, persons with disabilities, the elderly, and limited English-language speakers.
El programa VITA ofrece la preparación de sus impuestos gratis para los hogares elegibles que ganan $60,000 (al año) o menos, para las personas con discapacidades, personas de la tercera edad y las personas con un conocimiento limitado del idioma Inglés.
Everyone deserves clean clothes, but getting your clothes clean can also be expensive. If you need help getting your laundry done, Laundry Love has you covered.
In collaboration with Cathedral of the Beloved, Zion Lutheran Church, and St. Stephen's in Pittsfield, the North Street Coin Op at 320 North Street in Pittsfield can assist low-income/no-income families and individuals.
Call Laurie at (413) 443-4646 to schedule an appointment* to wash your clothes. If you can't call, just drop in to make an appointment.
* Appointments are necessary.
Who can't use some help saving money on utility bills? Mass Save, a state organization dedicated to energy efficiency, has a local program, Community First Partnership, that can help you navigate their programs. There are no-cost energy assessments, 75-100% off cost of insulation, great deals on heat pumps, and more.
Learn more about what you might be eligible for at https://ener-g-save.org/take-action/.
To get help signing up, call (978) 300-6536 or sign yourself up at www.masssave.com/egs.
     Click image for PDF (Folleto en español)