On Saturday, May 14, letter carriers in Pittsfield, Dalton, and Lenox will join national postal carries for the 30th annual Stamp Out Hunger® Food Drive. Customers can leave non-perishable food in a bag by their mailbox.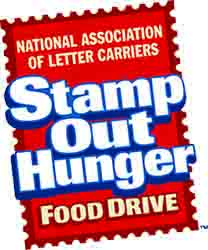 Letter carriers, along with some volunteers, will collect the food along postal routes in these towns and drop off at the Pittsfield Post Office, where more volunteers will sort and pack the food to be delivered to local food pantries. Volunteers will help deliver to food pantries.
Berkshire Bounty and Berkshire Community Action Council are organizing and supporting this event locally, and Berkshire United Way is helping coordinate the volunteer effort.
Volunteers for sorting and packing food can sign up here. Volunteer drivers can sign up here.
Read the press release from the National Association of Letter Carriers | Watch the video