Berkshire Education and Correction Services Aquaponic Facility steps up to help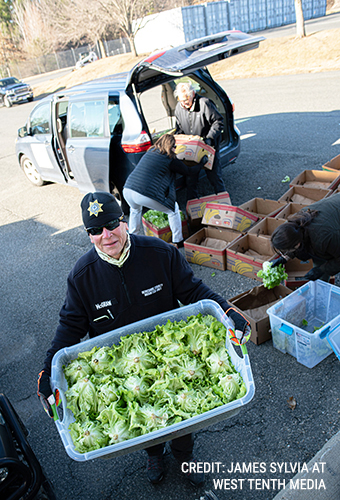 The Berkshire Education and Correction Services Aquaponic Training Facility at the Berkshire County Sheriff's Office and House of Correction was getting ready to harvest its very first crop of lettuce when the county was crippled by the COVID-19 crisis.
What do you do with nearly 1,700 heads of lettuce in the middle of a health pandemic? You donate them.
Thanks to the efforts of Robin McGraw, deputy sheriff and president of Berkshire Education and Correction Services, Mark Lefenfeld with Berkshire Bounty, Brenda Petell with Berkshire United Way (BUW) and Nina Garlington volunteering with BUW, all of the lettuce was distributed among various organizations throughout Berkshire County over the course of several days.
It took three years of designing, building and finally planting the first seeds to yield the first crop. "When I finally held this lettuce in my hand, I said 'I did it.' And what really made me smile was that we were able to give it all to those that truly needed it and quickly," said McGraw, a deputy with the Sheriff's Office for six years.
According to Petell, between March 18 and 24, 1,040 heads went to the South Congregational Church in Pittsfield; in Great Barrington, 280 to Women, Infants, and Children, 60 each to Claire Teague Senior Center and the People's Pantry; and 250 among Adams Council on Aging, the Friendship Food Pantry in North Adams, and the Williamstown Food Pantry at Saints Patrick and Raphael Parish Food Pantry. Deputy McGraw added that the First Congregational Church in Pittsfield separately distributed 100 heads of lettuce. Berkshire Bounty will be distributing another 600 heads in the next week.
"This was an unbelievable contribution in response to an immediate need in our community for food. Berkshire United Way was honored to work with Robin and Mark to make sure every last head of lettuce was distributed to food pantries and soup kitchens throughout the county. Ensuring children and families have access to healthy, local food is more critical than ever during this public health crisis," said Candace Winkler, BUW CEO and president.
The plan right now is to continue to distribute lettuce to "those who truly need healthy food," said Deputy McGraw.
According to Deputy McGraw, four years ago on a plane, Berkshire County Jail and House of Correction Superintendent John Quinn struck up a conversation with a teacher who started an aquaponics program at a juvenile detention facility in Charlotte, N.C. Quinn asked McGraw to facilitate a similar program, so working collaboratively with 100 Gardens, the organization that oversees several aquaponic programs, he made it happen.
He worked with the nonprofit arm of the Sheriff's Office to raise money and secure in-kind donations to get the facility built. This aquaponics facility is the first one to be built at a correctional facility in all of New England, drawing interest from several sheriffs throughout the state.
There are 300-350 tilapia each swimming in four grow tanks and the fish waste provides nutrients that help the lettuce grow. The facility has over 4,000 heads of lettuce floating in a bed, but since seeds are planted in intervals – it takes 45 days from seed to head – the lettuce is at different phases of growth.
Deputy McGraw added that the growing facility will be another educational component for the inmates, especially for the high-risk or high-need. The aquaponics facility will allow inmates to be outside, to learn new skills, and to focus on their work ethic and self-esteem. "Knowing you're feeding someone else is also a cathartic thing," he said. Inmates will commit to no less than a six-month STEM-focused curriculum run by corrections officers and fellow inmates.
There are still protocols to be put in place and this crisis to get past before the curriculum rolls out, but Deputy McGraw sees great potential with this program. "The sky's the limit," he said. He credits Sheriff Thomas Bowler and colleagues, his friends and intern Marco Anastasio for their support and collaboration in completing this project.
The facility produces lettuce 24/7, 365 days a year and is completely sustainable and off-the-grid. "Nothing will be wasted," said Deputy McGraw. Beyond this immediate crisis, the plan is to use a portion of the lettuce to feed the inmates and the rest will help those in need.
He also hopes to work with community organizations like Greenagers, Roots Rising and Berkshire Agricultural Ventures, and possibly expand to other leafy greens like arugula and basil. This could also lead to a good culinary program, Deputy McGraw added.
Inmates are often looking for a second or third chance at getting their life back on track and "this program is the best way to do that," said Deputy McGraw. "It will bring us directly in contact with the community and the community will get to know what's going on in here."