Join us in celebrating our community
Tuesday, May 16 | 4-6 pm
Berkshire Hills Country Club
500 Benedict Road, Pittsfield
The Live United Community Celebration event celebrates volunteers who
make a positive difference in the Berkshires. Thank you for joining us.
View images from the event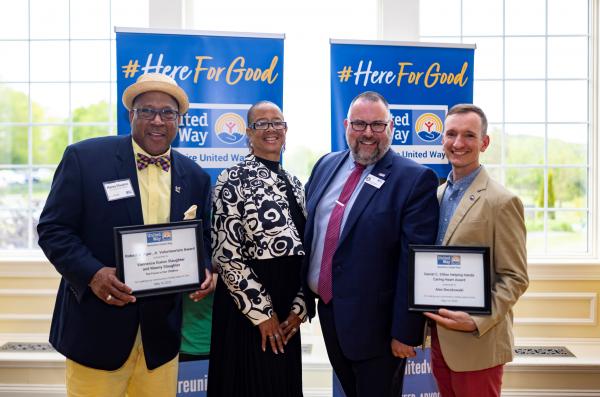 ** Photos by Tucker Bair **
Thank you to our sponsor

Opening and closing remarks
Awards presented to
Vannessa Guess Slaughter
and Manny Slaughter
Founders of the Focus is Our Children
Robert K. Agar Jr. Volunteerism Award
Since 1965, Berkshire United Way has annually recognized volunteers whose personal commitment and dedication to volunteerism is truly exemplary. This "Volunteer of the Year" award was named in 1981 in memory of Robert K. Agar Jr., a member of the Berkshire United Way Board of Directors.
For decades, Manny and Vanessa Slaughter have embodied an exemplary spirit of volunteerism and a commitment to mentorship and support for young people in the community. The Slaughters have run outreach programs and engaged volunteers to offer dance, sports and literacy, cultural enrichment, and mentoring opportunities for children and families. Their latest endeavor, the nonprofit Focus is Our Children, is a free afterschool homework and mentoring program for students ages 6-16.
Alex Reczkowski
Director of the Berkshire Athenaeum
Daniel C. Dillon Helping Hands, Caring Heart Award
Berkshire United Way presents the Daniel C. Dillon Helping Hands, Caring Heart Award to an individual or group of individuals who show up time and time again for those in need in our community. The award is named in honor of Dan Dillon, who led Berkshire United Way for 12 years, and was instrumental in defining United Way's essential role as a community builder and facilitator.
Dan's spirit and commitment lives and thrives in the work and example of Alex Reczkowski, who is dedicated to ensuring the Berkshire Athenaeum is recognized as a welcoming and engaging resource for all community residents. That same spirit of service animates Alex's volunteer service with local cultural organizations, the Rotary Club of Pittsfield, and in the time he contributes to Central Berkshire Habitat for Humanity as a Volunteer Income Tax Assistance (VITA) tax preparer. Alex has helped hundreds of working people access thousands of dollars in tax credits – money that goes right back into their pockets and back into the community, making the community economically stronger and most prosperous.
Remarks by Manny and Vannessa
Remarks from Alex Reczkowski