January 12, 2002
Three hundred Berkshire families in need enjoyed a holiday meal – thanks to the collaboration and support of the Jewish Women's Foundation of the Berkshires, Berkshire United Way, Berkshire Bounty and Berkshire South Regional Community Center.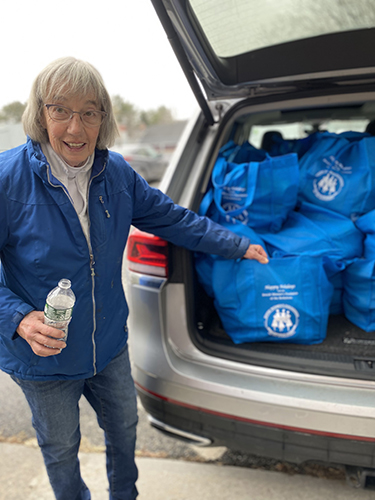 On December 11 in the gym at Berkshire South, more than 30 volunteers donated 60 hours to pack 4,052 pounds of food for a meal packing project, sponsored by the Jewish Women's Foundation and managed by Brenda Petell, director of volunteer engagement at Berkshire United Way. Berkshire Bounty procured and arranged delivery of wholesale food from Guido's Fresh Marketplace in Great Barrington and Wohrle's Foods in Pittsfield.
The bags contained green beans, cream of mushroom soup, dried onions, gravy, cranberry sauce, potatoes, carrots, celery, onions and oranges, as well as a $20 gift card to Big Y supermarket. Many of the bags also had 3 pounds of rice, which is in short supply at all the pantries. Included in each bag was a card with a holiday message and green bean casserole recipe.
Becky Schopp, director of the Sheffield Food Assistance Program, thanked the organizations and volunteers for providing these bags of meals. "I am so grateful to be able to hand them out tomorrow and combined with an additional gift card donated by our local Sheffield Kiwanis, the lot offers up opportunity for a nice Christmas meal for our clients."
Bags were also distributed to Hinsdale Food Pantry, Christian Center of Pittsfield, Salvation Army and Pittsfield High School, as well as early childhood and youth programs at 18 Degrees, Girls Inc., Boys and Girls Club of the Berkshires and Berkshire South.
To find out how you can volunteer in your community, visit www.volunteerberkshireuw.org. If you are interested in planning a volunteer project, contact Brenda at bpetell@berkshireunitedway.org or (413) 442-6948 ext. 18.