Berkshire United Way welcomed more than 150 supporters to the Country Club of Pittsfield on September 20 to kick off its 2023 fundraising campaign. At the event BUW President and CEO Tom Bernard announced a $2.1 million campaign goal.
BUW Board Chair Laurie Gallagher, a former employee campaign coordinator herself, presented this year's Employee Campaign Coordinator of the Year award to Beverly Gans from Taconic High School. Beverly has worked for the Pittsfield Public Schools for 59 years, 39 of them at Taconic, and for most of those 39 years, has run the school's BUW employee giving campaign. Her dedication has helped Taconic maintain nearly 100 percent participation each year. 
"Berkshire United Way is such a valuable asset for our community and I am proud to be able to assist in the support of this organization," said Beverly. "It is not difficult to convince people to contribute to the United Way, especially since their contributions stay in the Berkshires and do so much good for the residents."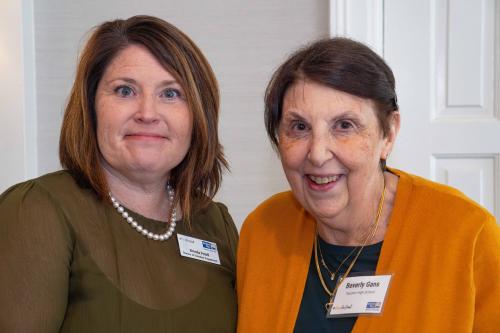 BUW's Brenda Petell with Beverly Gans, Employee Campaign Coordinator
   of the Year.
With pompom in hand, Brenda Petell, director of volunteer engagement at BUW, asked the room to help her recognize the 29 companies and organizations who went above and beyond to support BUW during their 2022 workplace campaign, earning them Pinnacle status. View the list of Pinnacle Companies.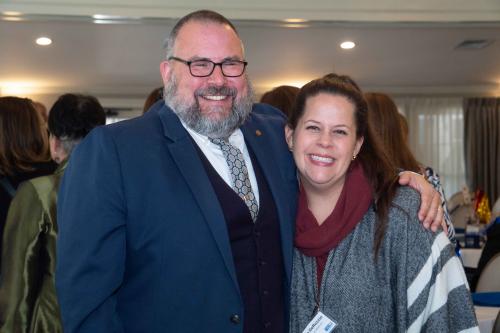 BUW's Tom Bernard with speaker Natalia DeRuzzio of VIM Berkshires.
Natalia DeRuzzio, patient services manager at Volunteers in Medicine (VIM) Berkshires, shared a heartwarming story that reinforces BUW's mission to combine workplace contributions with individual donations to invest in programs with measurable outcomes aligned with our funding priorities. 
"With the support of Berkshire United Way, we're not only changing the lives of our patients, we are reshaping the landscape of our communities through building stronger relationships with other community health workers and developing best practices for Berkshire County at the navigator convenings led by the United Way," said Natalia. "Each and every organization in this room has helped VIM accomplish our mission. Each of you have been partners and with these partnerships we have saved and changed the lives of thousands."
Tom remarked that "people in the Berkshires experience obstacles that make it harder to set and achieve goals, and to enable themselves and their families to thrive. With your support, BUW has an opportunity to deepen and strengthen our role in creating community-based solutions and strengthening systems of support in the community." 
The celebration was sponsored by General Dynamics Mission Systems, Guardian Life Insurance Company of America, and CompuWorks/Sourcepass, with support from 1Berkshire, Berkshire Bank, and Hillcrest Educational Centers. 
Learn how you can contribute to BUW's campaign through workplace or individual giving at www.berkshireunitedway.org/ways-give or contact Emily Daunis at (413) 442-6948 x17 or edaunis@berkshireunitedway.org.
More coverage by local media outlets