Fundraising fuels the work of many nonprofits and enables them to support people and programs that do tremendous good in the community. Berkshire United Way has launched its 2022-2023 fundraising campaign to support 40 programs and more than 10,000 neighbors in need.
Equally important to this effort is putting the "fun" in fundraising. From donuts and cookouts to friendly competitions, BUW workplace campaign partners engage their employees with recreational opportunities, programs, and recognition events that connect philanthropy and camaraderie. The team at BUW works with nearly 140 workplace campaigns to offer simple, efficient, and enjoyable ways for employees to make a difference in the community.
"Workplace campaigns are the backbone of BUW's fundraising. Each contribution enables us to invest in our partner organizations and support the incredible work happening every day to improve the quality of life here in Berkshire County," said Brenda Petell, BUW director of volunteer engagement.
David Hall, founding partner and president of CompuWorks, said the company prides itself on having 100 percent participation in Berkshire United Way's workplace campaign. "We make sure new employees are aware of this during their orientation. It's our way of introducing and connecting them to the community. We have a lot of young professionals and it's important to get them involved. We are committed to supporting the community and leading by example, and contributing through the workplace campaign is a good way to get that spark going."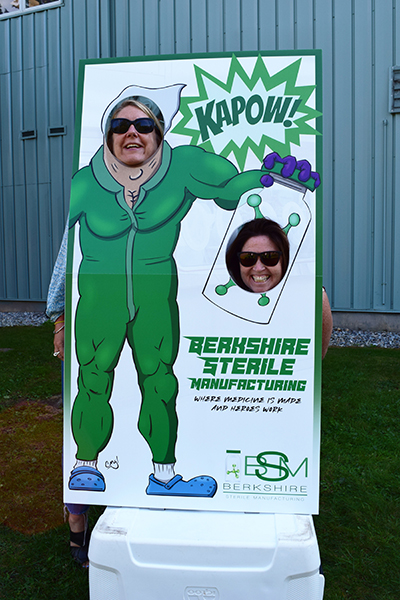 BUW's Katherine von Haefen and Brenda Petell stop to
have a little fun at Berkshire Sterile Manufacturing's kickoff.
"Running a workplace campaign requires tremendous commitment from leadership, tireless dedication from volunteer employee campaign coordinators, and inspiriting generosity from the workforce," added BUW President and CEO Tom Bernard. "We ask a lot from our campaign partners because we know the need in our community is great and that the most vulnerable members of our community are facing challenges and inequities."
Continuing a great partnership with Mill Town, anyone who pledges through their workplace campaign this year will be entered for a chance to win a Berkshire Experience at Gateways Inn in Lenox. To learn how to establish a workplace campaign, contact Pamela Knisley at pknisley@berkshireunitedway.org or 413-442-6948 x 15.