Meet Mikayla Chandler, our Community Impact intern for the summer through Berkshire Interns, a Lever, Inc. program.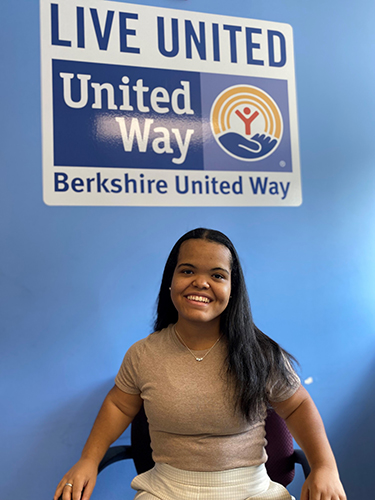 Mikayla is going to be a senior at UMass Amherst, where she's pursuing a degree in Psychology with a minor in Sociology. Outside of school and work, she enjoys working out and hiking, reading, and spending time with friends.
"I'm interested in giving back to the community," Mikayla said of her attraction to the internship at Berkshire United Way.
Giving back to the community is something Mikayla is familiar with, having served as a member of the Community Service Club at Old Rochester Regional High School, near her hometown of Marion, MA, and in her community-based Ambassador Club.
Mikayla fondly remembers when the Ambassador Club organized a fall Father/Daughter Dance in only a month and a half. "It was day after day planning, but worth it when we saw 200+ people of all ages from the community show up."
During her time with Berkshire United Way, she's looking forward to learning more about the funded partners and how their programs are helping in the community. Mikayla will also be diving into Diversity, Equity, Inclusion, and Belonging work through a Community Impact lens.
"We are thrilled to have Mikayla on board with us this summer. She is a great addition to the team and brings such enthusiasm and energy to our work. Mikayla is handling a number of key projects and we feel lucky to have her time and talents in assisting us," expressed Katherine von Haefen, Director of Community Impact.
When asked if there anything in the Berkshires she would like to see or do, Mikayla responded: "Actually, I used to ski with my family at Ski Butternut in Great Barrington. I'd love to ski other mountains here."