February 10, 2023
On Friday afternoon, Massachusetts Senate President Karen Spilka will visit the United Way of Tri-County, home of the Mass211 Call Center in Framingham, to share in the celebration of this statewide service available to all residents of the Commonwealth. Senator Spilka will present a citation from Governor Maura Healey, proclaiming February 11, 2023 as 211 Day in Massachusetts.
United Ways across Massachusetts will join United Ways throughout the United States as they celebrate National 211 Day, calling attention to this free comprehensive Information & Referral Service. 2-1-1 has been in operation in Massachusetts since 2006 in partnership with United Ways of Massachusetts and state government. 
Mass211 is the state's free telephone hotline that connects callers with local health and human services in their area and is available 24 hours a day, 7 days a week, 365 days a year, with translation services in more than 150 languages.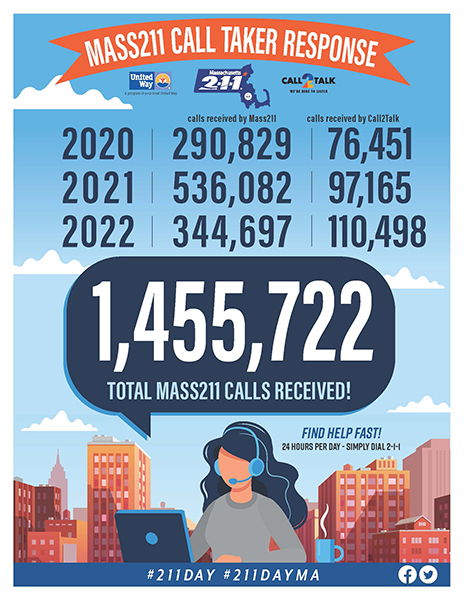 Additional speakers owill include Mass211 Executive Director Paul Mina and Vice President of Mass211 Eileen Davis, Everett L. Handford, Regional Director, U.S. Dept. of HHS, and Taylor Bryan Turner from the Substance Abuse and Mental Health Services Administration, as well as two information and referral specialists from Mass211 and call-taker from Mass211's Call2Talk suicide prevention program and postvention manager will speak about the newest service available to their postvention program. A brief tour of the call center will follow the program.
Several partners across the Commonwealth are expected to attend including Mary O'Coin, executive director of the United Way of South Central Massachusetts; Ryan Brinkey, public affairs specialist, HHS Region 1; Tim Garvin, president and CEO of United Way of Central Massachusetts; Tom Bernard, president and CEO, and Katherine von Haefen, director of Community Impact, both from Berkshire United Way; Kelly Cunningham, director of the Division of Violence and Injury Prevention, MA Department of Public Health; Danielle Bolduc, acting director of Suicide Prevention, MA Department of Public Health; Susan Nicholl, district and special project director for Spilka; and Leora Mallach, Framingham City Council member, among others.
Davis will also recognize her staff for their mission of service and thank the Mass211 leadership. She will also use the day to remind residents that no matter where you live in the Commonwealth, Mass211 is the most accurate source of health and human services information.
Mass211 is also called upon in times of emergency similar to the COVID-19 pandemic. Beginning in March 2020, then-Governor Charlie Baker activated Mass211 as the official number to call for the most accurate and up-to-date information on the pandemic, and call takers answered more than one million pandemic related calls.
Call2Talk, the Mass211 mental health, emotional support and suicide prevention line, answers calls through the Mass211 statewide platform as well as answering calls from 988, the National Suicide Prevention Lifeline. Highly trained volunteer call-takers answer calls and provide confidential and often lifesaving support to people experiencing emotional distress or potential suicidal ideation and have nowhere else to turn. Call2Talk also works in partnership with Crisis Text Line to provide support by text for those uncomfortable with speaking to a call taker. Anyone needing emotional support can be connected to a Call2Talk volunteer by dialing 2-1-1 from any phone in Massachusetts.
To learn more about Mass2-1-1, visit https://mass211.org.
Mass211 Inc. is a subsidiary organization of the United Ways in Massachusetts charged with providing the citizens of the Commonwealth with correct, timely and accurate information the first time they are called or searched. Mass211 was created and is staffed by the United Way. This 24/7/365 service was created as a resource to connect callers to information about critical health and human services programs.