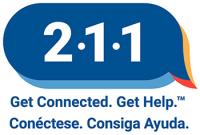 DIAL 211. Get Connected. Get Help.
Mass 211 is the easy-to-remember toll-free number to call for help. It's the link between people who need help and people who can give help. Staffed 24 hours a day, 7 days a week, 365 days a year – all calls are confidential. Multilingual and TTY (hearing-impaired) services are also available. 
 
A simple phone call to 211 can put you in touch with a range of resources not just in Berkshire County but throughout the state:
EMERGENCY/DISASTER INFORMATION

RENT ASSISTANCE

FOOD PANTRIES

AFFORDABLE HOUSING

HEALTH RESOURCES

CHILD CARE

AFTER SCHOOL PROGRAMS

ELDERLY CARE

FINANCIAL LITERACY

JOB TRAINING
Call2Talk
Call2Talk, the mental health helpline of Mass211, is located at the United Way of Pioneer Valley offices in Springfield and can assist residents within the 413-area code. Highly trained volunteer call takers help callers move from a place of emotional crisis to a calmer state by providing non-judgmental listening, comfort, and encouragement. Call2Talk in Springfield can be reached at 413-505-5111.
Call2Talk also works in partnership with Crisis Text Line to provide support by text for those uncomfortable with speaking to a call taker. Text c2t to 741741.
Mass211 Inc. is a subsidiary organization of the United Ways in Massachusetts charged with providing the citizens of the Commonwealth with correct, timely and accurate information the first time they are called or searched.  Mass2-1-1 was created and is staffed by the United Way. This 24/7/365 service was created as a resource to connect callers to information about critical health and human services programs.
We Support Mass 211
Learn more: contact Katherine von Haefen, Director of Community Impact, at 413-442-6948 x20 or kvonhaeven@berkshireunitedway.org.
Berkshire County Resources